It's four days later and my legs are still sore.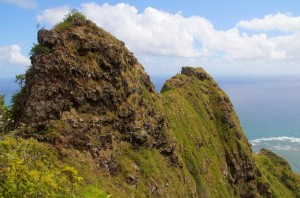 My family has the luxury of getting to Hawaii every few years, and I always try to find one physically challenging thing to do when I'm there, usually a hike. I'd been reading around the web looking for inspiration, in particular trolling goby.com, scout.me, and the wonderful and highly recommended http://www.unrealhawaii.com, where I ran across some amazing photos of the Pu'u Manamana trail, often referred to as "the most dangerous hike in Hawaii". I'm a moderately experienced hiker and backpacker, so I wasn't completely put off by that, but did have a bit of trepidation. Also, nobody else in my family had much interest in a death march (our climb of Kuli'ou'ou Ridge a few years ago was their limit) so I'd be hiking solo. While hiking solo isn't generally recommended, there a few things I love about it. First, you go at your own pace. Race ahead when you're feeling good, rest when you're tired. It really forces you to drive yourself – there's nobody to set the pace, or encourage you – you're here because you want to be. The second thing is that you can hear yourself think when you hike solo. You learn a lot about yourself when you have six hours of nothing but silence, you get a lot of time to sort things out, and insights come on the trail that don't come in other places.
After stewing on it for a few days, I decided, "no guts no glory", and besides, how bad could be it be? For god's sake there are Yelp reviews of the trail! My other problem: equipment. Normally for a hike like this I'd have my hiking boots (left back in Boston) and a camelback for sufficient water. I had a 10 year old pair of running shoes, a couple of small Nalgenes, and a forecast of 40% chance of rain. Basically, breaking every rule in the hiking book: don't hike dangerous trails alone, don't hike in bad weather, and wear solid footwear. (I did end up carrying water (3 liters worth), most of it in plastic bottles from 7-11, and drank it all.)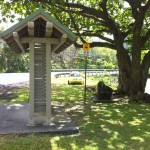 I did a fair amount of reading about the trail. If you want to hike in Hawaii, the single must-have source is Stuart Ball's The Hikers Guide to Oahu
. Exquisitely detailed trail descriptions, driving directions, exhaustive enumeration of the local plant life, mythological/historical background, parking, even what bus stop is at the trail head. I later read elsewhere that Ball led the effort to create the Pu'u Manamana trail from the beginning and it shows in the care of his descriptions. The other very highly recommended source is the blog Island Trails, written by local hiking "celebrity" Kaleo Lancaster, who's been hiking and writing about Hawaii trails for years.
Armed to the teeth with information on the trail, and told by my wife to turn back at the first sign of trouble, I got up at 7, drove north on Kamehameha Highway past the Crouching Lion Restaurant, parked, and was on the trail around 8:30.
First sign you might have bitten off more than you thought: literally 30 feet into the trail, there's a climbing rope to help you get up the first "hill". Uh-oh. As Ball says, this trail "becomes difficult right away and then gets worse". A number of spots on the trail really don't qualify as hikes, they are more like climbs. Nothing insurmountable, just be aware if you hike this trail you will have to climb some rock faces (not more than 15 feet or so, with cables for assistance). In the good news department, the forecasted rain was nowhere to be seen, good blue skies and a few clouds!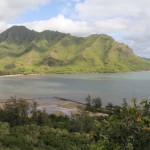 The trail climbs immediately and steeply and you get some great views very quickly. After about 15 minutes you get a great view on an ancient Hawaiian fish pond. It's a walled off area of Kahana Bay for trapping/holding fish. When I started the trail, it was low tide, and the walls were clearly well above water. Returning later when the tide had come in, the walls were submerged. While I don't know this for a fact, I wonder if the Hawaiians built the wall at the right height for the tide, so that fish would swim or be swept into the pool at high tide, and trapped when the tide when out. If so, very clever.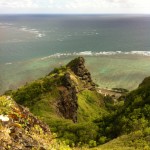 The trail really does rise quickly – after 30 minutes of climbing, you can look down on Crouching Lion rock (for which the restaurant underneath it is named), and have a dazzling view southward toward Kaneohe.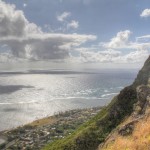 The trail is a 2100 foot climb, a 4 mile round trip hike, and nary a single switchback to be found. It's literally straight up the knife-edge ridge – most of the trail is like this,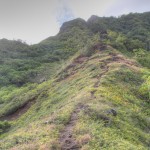 with some dizzying looks backward down the trail you just came up.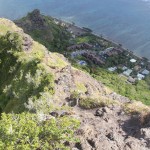 After about an hour to an hour and a half of solid climbing, you'll come to the first major knife-edge ridge that makes this trail famous and dangerous. When I came over a hump and first saw this ridge, I literally laughed out loud in amazement, the first time I can ever remember doing that hiking.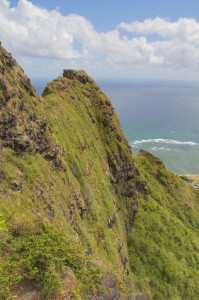 As you walk across it, the ridge is about 4 feet wide and 500 feet or so straight down on either side – this is a photo looking down at my feet.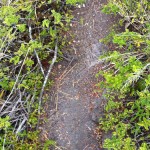 It seems crazy and scary – but at the same time, it's about the width of a sidewalk and I don't fall off sidewalks much. Just pay complete attention, pay the mountain the respect it deserves, and you'll be fine.
Here's a view looking backward at that ridge. Gnarly. Did I really just walk across that?! Note the cable against the rocks, top left.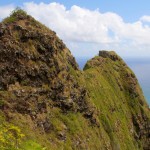 You will come down those rocks backward and you'll need the cable, it's about 15 feet high. There are 5 or 6 cables or ropes along the trail at various "interesting" spots. As of this writing, June 2012, every cable I encountered was very solidly in place – but as Reagan said, "Trust, but Verify". You are literally betting your life on them – test them before you put your weight on them! This particular ridge is one of the highlights of the trail, if you were pressed for time and/or uncertain about proceeding (later parts get worse), this is a reasonable place to turn around. As Ball says, "there's no shame in turning around if you don't like what you see".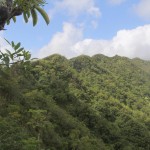 Keep climbing steadily for another couple of hours along the ridge, including some very muddy spots, and before long you'll hit the summit of the trail, called Turnover, where there's a small clearing and some grass that makes a perfect lunch spot. It's also a great place to try to find your legs, after the steep climb. There are some amazing views of the Koolau mountain range to the west and north.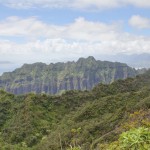 Looking northwest you see what looks to me like the Koolau Summit Trail, a trail that seems to be at the top of the world.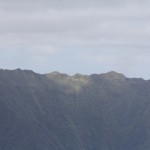 You also have great views down into Kahana valley, where portions of Jurassic Park were filmed. Still, the modern world is making its inroads as well. I had cell coverage at the summit and was able to a) text my wife and let her know I was ok, and b) be the second person in history to check in on Foursquare at Pu'u Manamana.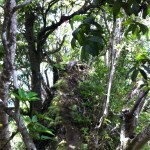 Then, it's time for the descent. Take the other fork in the trail near Turnover for what Ball calls the "hair-raising descent". You'll drop 2000 feet in one mile! If I remember my trig that's like a sustained 36 degrees over a mile….on a knife edge ridge that in many cases is about a foot wide. This photo is deceptive, it looks level, but in reality it is a 45 degree angle downwards. In many cases I was literally swinging from tree to tree to get down the hill, particularly since my thighs were completely shredded by the end of the trail. Along the way, if you can spare the attention to look around, there's some beautiful flowers.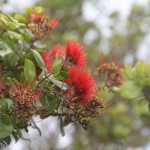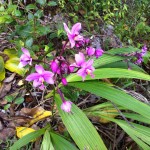 I had thought my legs were ok at the summit, didn't feel too bad, but by halfway down the back half of the loop trail, my legs were complete jelly. I though I was going to literally fall down, and I was having a hard time stopping my descent.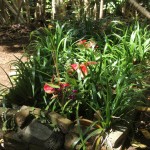 Near the foot of the trail is a Mormon graveyard, described in detail by Ball, where victims of the 1946 tsunami are interred. Wandering around, there are apparently chickens too, as I ran across an egg just randomly lying on the ground. Shortly past the graveyard you come out of the woods and onto an open, flat (thank god!) green field in a small neighborhood, and from there to the road and back to your car. By this time my legs were so weak, I was stumbling around the open field like a drunk, hoping nobody called the police. I was weaving a like a sailor just off a boat, back on flat earth.
Pu'u Manamana is an amazing hike. Crazy climbing, knife edge ridges, wonderful views, beautiful plants. But it's a beast. I'm a reasonably experienced hiker, in my late forties, although I don't do a lot of cardio. The trail took me six hours total, on the trail at 8:30 and off the trail by 2:20. Four hours to get to the summit, two heart-pounding leg-grinding hours to get down. Younger legs would probably go faster, and also as I was hiking solo, I was being very careful not to turn an ankle, which wouldn't be hard on this trail. If you're tempted to try the hike, my recommendation: if you're an experienced hiker and not afraid of heights and some small climbing, go for it, you won't be sorry. If you're not an experienced hiker, have never hiked for more than a couple of hours in a stretch, or never summitted a big mountain, try something easier first.
A few specific recommendations. Take lots of water. I took 3 liters and drank it all. The ascent is steep, exposed, and hot. Get on the trail early. Be prepared for mud. My running shoes had to be "retired from the field of battle" after this hike.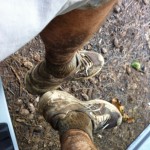 If scratchy plants or bugs bother you – wear long pants. Much of trail is narrow, almost bushwhacking – you'll be pushing through lots of scratchy plants.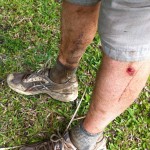 Don't walk and fool with your camera at the same time on this trail. Stop, take your picture, put up your camera, then hike again, concentrating on not falling to your death 8). Seriously. Respect this mountain like it's your mother.
Finally, to complete the back-country experience, stop at Hygienic Market (which is anything but hygienic), a dirt-floor roadside country "store", and grab a cold soda, some beer, or (seriously I saw this, Mad Dog 20/20). Then walk outside to one of the food trucks and grab some well-earned local food.
You can see all my pictures of the hike here on Flickr: http://www.flickr.com/photos/viking2917/sets/72157630050435434/show/