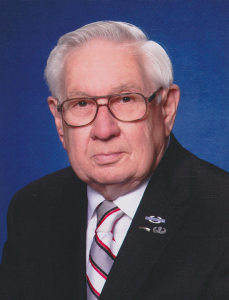 My father passed away last week. This is my eulogy from his service.
Dad was a soldier. He was a husband and a father. He was a teacher, a patriot, and a hero. Those are big words, but I don't use them lightly. He was a quiet man, but deep and serious, interested in the world of ideas and knowledge and always ready to share his thinking. I had a few stories I wanted to share which you might not have heard before about Dad.
Dad was a teacher by nature, although not by profession – he did come from a family of teachers. His head was an encyclopedia of knowledge about most any topic. If you wanted to know the history of the Federal Reserve Board, or how steel is made, he could tell you. He was also extremely practical and hands on. He taught me how to make furniture by hand, there's a bookshelf in the house we made together. I would always try to sit down and do it. He told me, "You can't work sitting down". Ironic as I make my living sitting down now, but I understood him to mean, "you can't take shortcuts".
One day he was changing the oil in the car and listening to the radio (boy did he love his radio), and teaching me how to change the oil. A news story came on, I forget the details but somebody had done something questionable to make millions of dollars. Dad said something that's stuck with me to this day, he said, "There's so many people who will sacrifice their principles for a few bucks". And I knew he didn't mean a few bucks, he meant millions, but compared to his principles, that's what it was to him. I didn't want to be one of those people. He always wanted his children not just to be better off than he was, but more importantly to BE better than he was, and he and my mother were a team in making that happen.
Dad knew that money wasn't worth your principles, but he was always interested in the theory and practice of money. He was a child of the depression and the war and was extremely frugal. He'd take on the hard jobs in the military because he got paid more and eventually started his own business after retiring from the military. He was always very interested in the investing and the stock market. A few years back we bought him an iPad, and it was like an artifact from the future for him, he could sit in his chair and get instant stock quotes and research, and it was such a joy to watch, I didn't think I'd ever get an email from him but I did.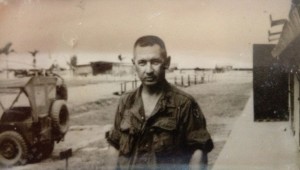 I mentioned Dad was a soldier and a hero. Dad did two tours in Vietnam, was career military, and was awarded numerous commendations. He received the following commendations:
Bronze Star with V Device (our nation's fourth highest award for bravery (Valor) in combat)
Purple Heart
National Defense Service Medal
Parachutist Badge
Ranger Tab
Combat Infantry Badge
Air Medal
Meritorious Service Model (2nd oak leaf cluster)
Army Commendation Medal (1st Oak Leaf Cluster)
Vietnam Service Medal
Republic of Vietnam Campaign Medal
Honor Medal China
Republic of Vietnam Staff Service Medal 1st Class
Republic of Vietnam Armed Forces Honor Medal 1st class
Meritorious Unit Commendation
Republic of Vietnam Cross of Gallantry with Palm
Republic of Vietnam Civil Action Medal First Class
Bronze Star (2nd Oak Leaf Cluster)
I'd like to tell you the story of his bronze star and the purple heart.
[Read from newspaper clipping]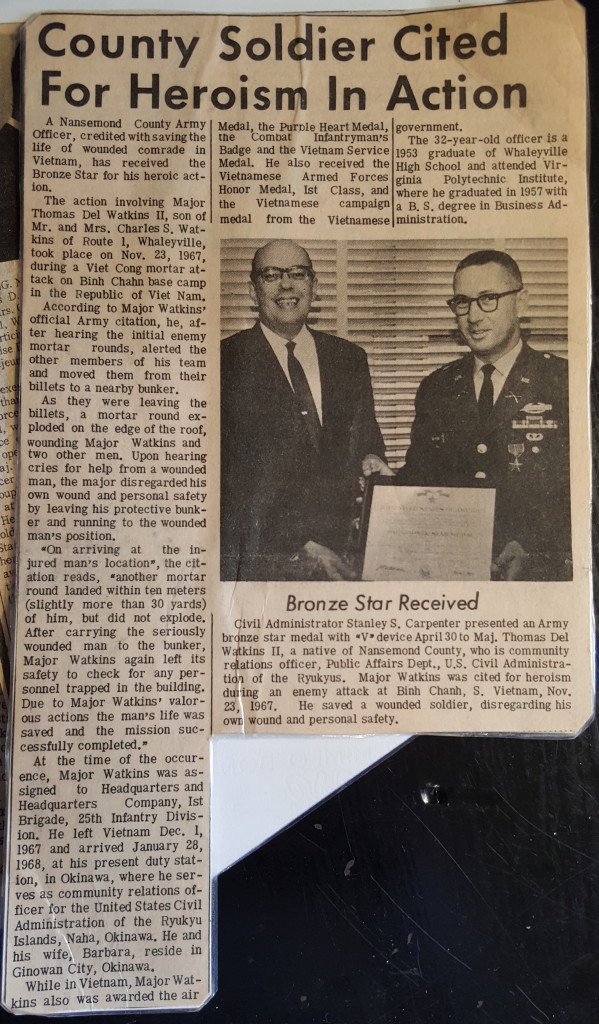 Like many veterans, Dad didn't like to talk about anything special he'd done. As he said, "you just do what you have to do and don't make a big deal out of it." But we'd sit up late many times, there might have been a drink or two involved, and one night he told me the story. Those of you old enough to remember Paul Harvey the radio guy, he'd say, "And now for the rest of the story". Dad said, "Here's the part I never told anybody before". He said it was SO hot in Vietnam, they'd all sleep completely naked. He said the entire rescue, he didn't have a thing on except a pair of Army boots. But he'd never wanted to tell to tell that part, but it gives you a sense of what he was capable of.
Dad had a great life, and together with Mom made a great family, and he will be missed.