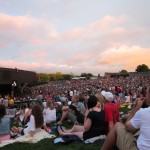 As some of you may have heard, one of the inspirations for Goby was me missing Jack Johnson playing a concert on Oahu one time when I was there. The lack of a single place to go to find out "what's going on" is one of the reasons why people miss great events, and missing Jack Johnson playing in his native Hawaii would have been so cool! (Aside: we feel a special bond because my wife is part Hawaiian and her aunt actually taught at Jack's high school).
So, it was great to finally close the loop and see Jack play this weekend (albeit at the Comcast center in Marshfield, MA, not in Hawaii). It was a great show – he played pretty much all his well-known tunes ("Taylor", "Flake" , "Breakdown") plus a bunch of songs from his new album To The Sea. Some bands are rough when they perform live, and some bands are so tight they sound like their recordings. Jack, for all his loose-and-free Hawaii surfer-dude attitude, is tight. His live performances are almost indistinguishable from his recordings.
G-Love opened for him, and was strong in both the warm-up set as well as when he returned for a few songs with Jack later in the evening.
The 60s were in full swing as the crowd took full advantage of the recent Massachusetts law making marijuana a civil violation; tie-dye, tiaras and headbands, biblical beards and other vestiges of the 60s seemed to be everywhere – you would have thought you were at a Led Zeppelin concert. The social element of the 60s was also visible in the form of Carbon Offsets being sold by the tour to cover the tour's carbon footprint. Jack's admirable work starting up his own social action network was in evidence in the booths at the concert for the All At Once (allatonce.org) Foundation. But the real atmosphere was the spirit of Aloha and friendliness of the crowd as well as the performers (including other Hawaiian musicians like Paula Fuga who joined Jack on stage). A little bit of Hawaii in Massachusetts!