2011 was a pretty busy year for me. In between trying to raise funding for goby, as well as eventually selling the company to Telenav, I spent an enormous amount of time on the road. That gave me the opportunity to listen to huge quantities of new music, and to see some great music live. This year I really discovered electronic music in depth. I also re-developed a love for acoustic music, in particular roots and Americana….and continued to explore African and Middle Eastern music. Here are some of my favorites.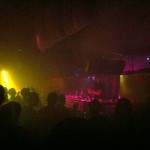 On one of my trips west, I stayed in San Francisco and got a chance to go to 1050 Folsom, one of the epicenters of west coast Dubstep in particular and electronic music in general. I saw Mary Anne Hobbs, one of the legends, and discovered Minnesota, and one of my favorites, Lorn. Check out one of his 2011 tracks, Obsidian – feels straight from the Blade Runner soundtrack. Subscribing to the newsletters of the electronic music labels is a great way to get free tracks and be introduced to a variety of cool artists – I found Mux Mool and his track Raw Gore that way.
Kraddy used to be a Glitch Mob member (more on them in a minute). His music's been on near continuous rotation for me this year. He calls it Led Zeppelin 3000. Check out the mythologically-inspired Minotaur. Another great DJ/composer I ran across is Eskmo. He produced an amazing remixed setlist exclusively for Google music (check it out here). If you don't have a Google Music account, have a listen to Moving Glowstream for a taste.
One of the pioneers of the dubstep movement, the nearly anonymous Burial, returned this year with an EP, full of dark atmospherics, beats and scratches, and spooky voices. If Aliens ran factories, Street Halo is what they would sound like.
Long timers Glitch Mob (with whom Kraddy used to play), also dropped an EP, We Can Make the World Stop. The anthemic We Can Make The World Stop is full of great melodies and powerful drops.
Battles' first disc, Atlas, completely blew me away. Aliens would make music like this. If you haven't heard the first disc, start here with Tonto. Groundbreaking stuff. They lost their lead singer, but returned with a second disc that, while perhaps not as a strong as Atlas, does contain some great tracks, like Futura.
OK. That's enough electronic stuff. How about some music played on real live instruments and sung with real voices? Well, Fink provides a great transition. He used to be an electronic musician, but made the switch to acoustic guitar and put out a great disc this year, Perfect Darkness. Check out the title track, Perfect Darkness.
Gillian Welch and her collaborator Dave Rawlings have produced 5 albums, all of which feel like they would have been at home in the Great Depression or the Dust Bowl. They have some of the most heart-breaking lyrics, intricate guitar work, and hair-raising vocal harmonies being made today. If The Way It Goes is to your taste, get the full disc, The Harrow and the Harvest. The Civil Wars also burst onto the Americana/roots scene this year. Barton Hollow is a good place to start; more electrified than Welch & Rawlings, but cut from a similar cloth. I also had a chance to see Chris Pureka live at the Middle East in Cambridge. Burning Bridges is a great intro to her acoustic chops and powerful lyrics.
Indie band Dispatch regrouped and retoured this year, I saw them in Boston with my son, which was really cool. They threw off a few new songs as part of the effort, including Melon Bend. Seeing them in concert was really neat – since their last tour in 2002 they have really improved as musicians.
Well, the Occupy movement made big news this year. Occupy Boston was right down the street from the goby offices. Whatever you think of the movement, the spotlight shined on Wall Street and corporate corruption wasn't pretty. Mark Knopfler was way ahead of these guys. Punish The Monkey was surely written about some mid-level manager in a Wall Street firm, about to get the whole thing pinned on him….
I had a chance to see some great Irish music live this year, in particular Solas at the Somerville Theater. I've since discovered John Doyle, who used to play with Solas. He has a great new disc out this year, and while Crooked Jack is from a previous disc, I think it's the best introduction to his modern, yet traditional, Irish music.
Channeling traditional blues & soul singers from a bygone era, Adele took the market by storm this year. You probably don't need me to tell you about her, but listen to Rumour Has It anyway.
Moving from someone everyone has heard of to someone nobody's heard of. The oud is a fretless Arabic lute used in traditional music. Electrified, and in the hands of Mehdi Habbab, well, it's anything but traditional – middle eastern rock with a hard-edged beat. Have a listen to some Algerian Rai, courtesy of Speed Caravan; the track is called Aissa Wah (Mo DJ Remix).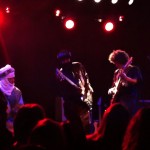 Finally, I had a chance to see Tinariwen at the Paradise this year. Tinariwen started as a Tuareg protest music band in Mali, and have since become something of a worldwide sensation in the world music community. I've been following them for awhile. One of my "bucket list" items is to see them play at the Festival in the Desert in Mali, but Al-Qaeda seems to be operating in Northern Mali at present so this year probably isn't in the year. Aldachan Manin, from the Festival in the Desert CD, will have to do for now.