It's day 8, the end of the first week of the Kickstarter. I've been typing continuously for the last 3 weeks, sending emails (5,000+, literally – of course many via mailing lists), writing journalists, mailing friends, twittering….my carpel tunnel (or RSI or whatever the catchy new name is), is back. wrists hurt and i have to break out the wrist braces again. (note to self: getting old sucks. type less.).
First job of the day is to send a mail to all my beta test users (~150 people) giving them an update on progress and rattling the tin cup. I.e., asking for donations 8). The rattling is becoming a dull roar…I also sent personal notes to all the new backers in the last few days (I always send a personal thank you to them!).
I spent an hour talking with old friends my "kitchen cabinet" for The Hawaii Project, Thomas Jensen (http://twjensen.blogspot.com/) & Lynn Thorsen-Jensen (https://twitter.com/lynnktj). Their assessment is similar to mine but more pointed: current course and speed on backing won't fund the project. Their counsel – work Facebook and book bloggers more, stop sending bulk mails (aka spamming) and chasing publishers, which I've been spending time doing. Up my game on Twitter – so I've been doing more (Buffer is a great tool), and different kinds of tweets than I have been doing. And, write a daily diary about the Kickstarter and process and post it. So here we are.
I spent awhile working on trying to get coverage from the American Library Association – which would be good on its own, and would give me a good reason to be in touch with every librarian in the country, many of whose email addresses are available online. They are an important constituency for the project. Also got back in touch with Robert Scoble, who covered my last company. May or may not get his attention, as he's back from a long break.
I continued a few refinements to the Founding Author page, and have seen some inbound interest from more authors about it. Yay!
Finally, I play some tennis around 9pm. When you're cranking, physical exercise is important to blow of some steam, keep the body going, and give the brain some time to think about other things.
I'm also using Rescue Time to keep track of how my time is spent. Here's what it looked like yesterday: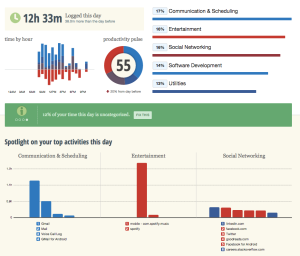 Today's Music: Al Di Meola. His jazz/rock/fusion keeps the neurons firing. https://player.spotify.com/artist/3bBWKHfpepPOychRNFzg4q