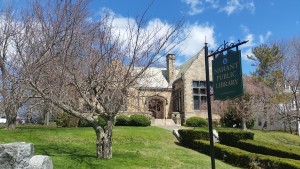 It's day 27 of the Kickstarter for The Hawaii Project, Tuesday, April 28.
4 days left. $10,835 pledged, 30% funded, 140 backers. 4 days to go.
Brief Commercial Interruption: The Hawaii Project brings you books and book news you'd never have found on your own, by tracking hand-selected sources of great books, uncovering things that match your favorite authors, personal interests and current events, and bringing them to you daily. 10% of our revenue goes to 3 great literacy non-profits. Check us out on Kickstarter: 
Today's Library and networking day. Have coffee with a former colleague and friend, thinking about a career change. He has an idea for a new startup that's eerily like my previous startup, goby. "things to do" is a tough app space. more about that someday.
Then I'm off to Nahant Public Library. It's about an hour drive. Nahant is essentially an island, connected to the mainland by a very narrow causeway. It's gorgeous. The sun is shining and it's spring in Massachusetts. I'm visiting because they've expressed interest in what I'm doing and maybe there's something to do together.
The library is the third oldest in the state, a gorgeous old wood and stone building, 2nd floor has lead glass panels for flooring (!), the roof is recovering from a raccoon incident, and the librarians are fun, thoughtful and encouraging. And loud! It's "the new library", as they say, no "shushing". We talk about books, readers, libraries, and The Hawaii Project for an hour and half or so – really good fun.
They like the visual nature of the site, the way it's easy to browse a mix of new and old, but interesting, books. There's a thing in libraries called "reader advisory services", which is basically when a patron asks for help picking out a book to read. It's tough – even librarians can't be familiar with everything and every taste! They think what I'm doing can help them – more interestingly, they're likely willing to pay for it! Yay customers!
Turns out their site is built with a website generation tool that makes it easy for me to embed parts of The Hawaii Project inside their library website! I spend an hour working in one of their comfy chairs setting it up. Presto. Instant pilot project. We'll let it run for a few weeks and if they're liking it, we'll settle on a subscription-based, recurring price. Not really the business model I had in mind, but, when someone offers you money, you follow the thread a bit to see where it leads!
Especially when your Kickstarter is struggling 8).
They recommend Kelly Greens for lunch. It's a golf course clubhouse right on the water, and the end of a dead end road. I feel like I've wandered onto the set of The Departed or something. Irish bartender, Southie-sounding accents (if you're from Boston you know what I mean), and an amazingly good Reuben and a cold glass of beer. If you find yourself out that way, I recommend it.