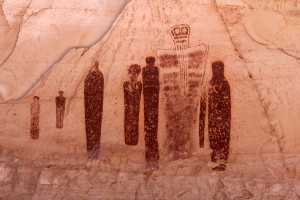 It's day 25 of the Kickstarter for The Hawaii Project, Sunday, April 26.
As you recall from yesterday's diary, one of today's experiments is to explore Facebook as a marketing channel. In particular, I want to see if interest-based groups will react well to posts about THP mentioning topic-relevant books. Following a suggestion from Lynn, an old friend, I join a Facebook group dedicated to Rock Art in the Southwest. (I used to live in Utah and do that kind of thing, the photo above is mine). I join the group, post a few photos, and…..
Brief Commercial Interruption: If you're reading this, you may not know what The Hawaii Project is. The Hawaii Project brings you books and book news you'd never have found on your own, by tracking hand-selected sources of great books, uncovering things that match your favorite authors, personal interests and current events, and bringing them to you daily. 10% of our revenue goes to 3 great literacy non-profits. If this resonates, back us on Kickstarter: 
http://www.thehawaiiproject.com/kickstarter
Those photos pick up 50-75 likes in a matter of minutes! More than I've ever gotten on a photo posted on my timeline. In minutes…. I don't think that's because my photos are so good, it's because the group is large  (~5000 people) and VERY active. Emboldened, I post a recommendation for the book The Lost World of the Old One, by David Roberts, about the archaeology of the Southwest, and I mention that I discovered this book through The Hawaii Project, which is completely true, and mention the Kickstarter.
Boom.
30 "likes" on Facebook within about 5 minutes, and a continuing stream of them throughout the day. I eventually track about 40 or so visits from this to my Kickstarter page. As yet, none of them have converted to pledges that I can see, but still, 40 visits in a few hours from one post seems to validate that energized communities will react well to relevant book recommendations. While it may not work for the Kickstarter, it suggests that when the site is live this can work as a customer acquisition technique. THP finds great books on most any topic, so this strategy can scale pretty widely I think…perhaps could even be automated.
This activity also earns me a slap on the wrist from the group moderator, who says "this is real close to spam", but he leaves the post up. And he's right, it is "close" to spam. But the book is spot on, as judged by the quick and large set of "likes", and nobody but him complains about the post. I'm not bothered; you need a thick skin for this startup stuff.
Yesterday was a milestone in the Kickstarter too; I end the day by breaking $10k in pledges!
5 days left. $10,005 pledged, 28% funded, 131 backers.
LinkedIn is starting to pick up as a source of pledges, a few folks who've been reading this diary have contributed. THANK YOU. I need some big donors to get over the edge. Gonna go harass a bunch of rich authors. Wish me luck.
Music: Sunday is Jazz day at my house. Today it's Industrial Zen by guitar wizard John McLaughlin