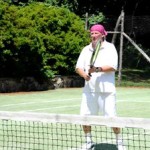 $7,690 pledged,  21%, funded, 108 backers.
Day 15. Midway through the 30 days of our Kickstarter. My Kickstarter is now "middle aged". A little creaky in the knees but still moving. Youth has flashed by. Like a middle-aged tennis player, we're not going to win on speed and muscle (aka a big press hit), we're going to have to win with guile (no, that's not me in the picture, I'm much better looking). Only, I'm not feeling very guilish at the moment. (I'm also pretty sure guilish isn't a word?). Tomorrow's task is to regroup and re-analyze the path to meeting our goal. Current one won't get it done. But first, today.
Had our first beta customer cancellation, out of about 150. Bummer, but then, to lose only one out of a random crowd of 150+ is actually pretty good. Especially given how many Kickstarter mails they've been subjected to 8).
In the good news department: Bost Inno ran a follow-on article about 9 new Boston startups to watch, and we made it into that. And a local town library is interested in integrating The Hawaii Project into their website! Vaguely suggested they (or other libraries) might even be willing to pay for it! I set up an in-person visit for early next week. Failing anything else, maybe there's a way to get the word out on the Kickstarter that way.
Oh yeah. I was going to give you an analysis of the impact of the BostInno piece. First, it's great awareness building. It led to another press outlet getting in touch to do a live interview next week. These things build on each other, press isn't a one-and-done medium – each thing builds on previous work.
Unfortunately the article doesn't link to my Kickstarter landing-page-with-redirect (I'll explain that post-Kickstarter in my tips and tricks), so I can't see how many people visited the Kickstarter page, I can only see who ended up backing. The article got a 1.8k "FlameScore" on BostInno (it's unclear what FlameScores are exactly – page views is a big component but not a 1:1 mapping), and generated 37 twitter shares and 31 Facebook shares. From watching the backing flow, it's pretty clear the BostInno piece resulted in 7 new backers and about $500 in backing. If you're trying to fund a Kickstarter on press, you either need a more compelling product than me, or more press 8).
Commercial: If you want to back us, you can do so here. The Hawaii Project. Do Good by Reading Well.