Had a weekend free during a business trip to California. I decided to take a weekend road trip down to Monterey. Got up Saturday morning and took highway 17 over the mountains and down into Santa Cruz. Near the summit, I pulled off on Madrone Rd and wandered through the mountain neighborhood of Redwood Estates. Gorgeous views, wonderful Redwoods smell, nice houses and winding near-driveways for roads. Really neat area and made for wandering with the windows down, taking in the mountain air. I followed my nose (and a little bit of Scout, and eventually re-emerged back onto 17.
From there drove down to Monterey, to the Monterey Hotel where was I was staying. Nice hotel, great location, not too pricey, with a bit of a Victorian decor and pleasant folks at the desk. But, Ooomph. 4th floor room, no elevator – beware of that if you stay here. There's a great coffee shop across the street, Cafe Trieste – spent the rest of the morning drinking good coffee and hacking some code.
I headed down to Cannery Row, I hadn't been there in about 20 years. It's been gentrified a lot, some pretty upscale hotels and the usual row of shops. The harbor is right nearby and the obligatory sea-otters were everywhere. I was on my own so didn't dive into the Monterey aquarium, but if you were there with kids, you'd definitely want to do that. Instead I did lunch at Bubba Gump, of Forest Gump fame. Touristy, but they have great shrimp, Lagunitas on tap, and a great view of the harbor. You could do a lot worse.
After lunch, I went back to downtown area and indulged one of my favorite vices, used bookstores. There are two interesting ones in the downtown area, The Book Haven and The Old Monterey Book Company. Somehow I came away empty handed, but enjoyed a few hours of browsing. There's a couple of "British" pubs near the hotel, one more British than the other. I had dinner at the "real" English pub, the Crown & Anchor; the food was OK but a good beer selection. I figured I would try the other one to see what was up, the Brittania Arms. It was early Saturday night and the place would seat about 40 people – they had 5 (big) bouncers. Apparently Monterey is a tougher place than I thought. I had a cold beer but there wasn't much going on, so I went to bed….
Up the morning, had breakfast at the Cafe Trieste. As mentioned, great coffee, and I had the Crab Benedict, it's awesome. Have it if you go.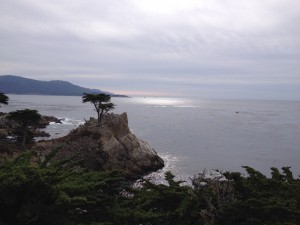 Then I hit the 17 Mile road, perhaps the most beautiful (toll) road in the country. Stop at the Lone Cypress. Gawk at the mansions and the scenery.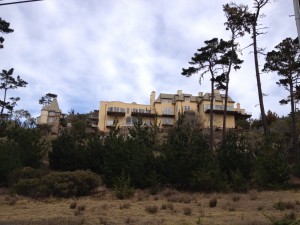 Drive through Pebble Beach golf course. You'll come out the other side in Carmel. Park the car, grab a coffee at the Carmel Coffee House and see the shops. More Art Galleries per capita than any place on earth. (I made that up but it might be true).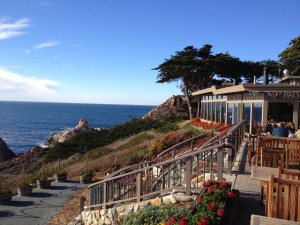 After Carmel I decided go south to Point Lobos, so I headed down the Cabrillo Highway. Amazing coastline. I started seeing signs for Big Sur, and I realized the day was still young, so I decided to abandon Point Lobos and head for Big Sur. (Point Lobos is apparently very beautiful too, so if you're short of time, stop there). I started getting hungry and started looking for a roadside joint to eat at. In 5 miles or so, I ran into Rocky Point Restaurant, which is not a "joint", it's a pretty nice restaurant. It's got amazing views of the ocean, as it's nestled right on top of a cliff. Grab a burger or grilled cheese, or something fancy (I had the grilled cheese on focaccio, which was great), then hit the road again.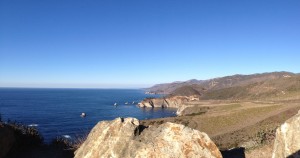 Route 1 is absolutely a blast to drive, and stunning to look at. After a gorgeous drive, I got to Big Sur and stopped at the ranger station. As I got out of my car, I was hit with crisp mountain air with a strong aroma of Redwood and Eucalyptus, with just a hint of ocean….amazing. The ranger station was closed, but they had a photo of the relatively unmarked road 1/2 mile to the south that takes you down to Pfeiffer Beach. You'll take a narrow, winding country road down to the park (there's pullouts for when cars pass in opposite directions). About 2 miles down is the parking lot – from there it's a short walk to beautiful beach with a view of the setting sun.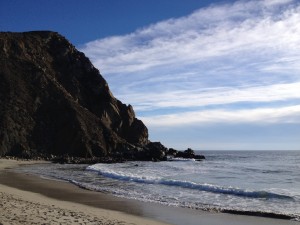 Hang out on the beach for a bit, listen to the waves, watch the sun drop, then hit the road back to northern California. It's about a 2 hour drive, so you can be back in time for dinner if you want, or stretch it by stopping somewhere along the way for dinner.