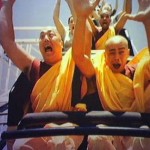 Mark Suster wrote a great post on whether the startup life is for you or not. His post really nailed it, particularly around the roller coaster ride that is a startup, and how you really have to embrace the rollercoaster to enjoy it. I had one of those weeks that really reflected that, so I thought I'd share.
Gonna be a great week. Meeting with an old friend in San Francisco, followed by a meeting with a very smart and well regarded entrepreneur-turned-venture-capitalist, that I've met with before and like very much. Hoping to meet with a couple of high profile reporters as well. Then down to LA, where I'm on a great panel at a conference, and going to meet with two potential customers to try to close some projects.
Monday. start off the week with a 6am flight out of Boston for the west coast. Up at 3:30am. Ugh. It's President's day, a holiday, for normal people, who are off. Oh well, this is what I do. Pick up a USA Today in the airport, our product, goby, is featured with a very positive review and picture in USA Today. WOOHOO! Hard to beat that as a way to start off the week. Reading my email in the airport, my friend's company needs him to fly to Chicago so that meeting is off. DAMN! Manage to wedge in a replacement meeting the next day with one of my advisory board members; get some great advice and contacts. Reporter meetings appear not to be happening. I think of another strategic partner I should meet in LA and drop a note; meeting looks good.
Tuesday. Get a random mail from someone I know who wants to explore strategic partnerships; since I'm randomly in the area, we get together and have a very interesting conversation. Walk out of that meeting, the venture person I was meeting with has come up sick and can't make the meeting. All that prep the night before wasted. DAMN! On the positive side, I'm close to the golden gate bridge, no other meeting to arrange on short notice, so I take a walk across the golden gate bridge on a beautiful day, before driving down to the airport and hopping a flight to LA.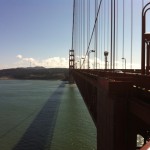 Wednesday. Get off the plane, one of the big meetings I have, the person has come down with Bronchitis and can't meet. DAMN! But another meeting with a potential strategic partner miraculously appears (WOOHOO!) and I squeeze in a very interesting meeting that didn't exist before I left. My second meeting drops me a note and lets me know he's had a basketball injury and can't meet either. DAMN! Then on to my other meeting, which goes well enough but doesn't result in getting the business (at least yet!). Slog to the hotel through LA rush hour traffic, grab a drink and a pizza, then off to the hotel room to prep for the panel tomorrow. In bed at midnight. Just before I go to bed, get a mail that we've been accepted to speak at one of the biggest and best advertising conferences (WOOHOO!).
Thursday. Up at 6. Conference is going well. Meet a lot of interesting people. Panel goes very well, so far as I can tell (WOOHOO!). Somewhat by chance I make some great connections and have some great conversations with my co-panelists that may help the business very shortly.
Friday. Get a call from one of my colleagues, a deal we've been chasing and was looking dicey, we now have what looks like an agreement. WOOHOO! First deal this quarter and couldn't come at a better time. Get a mail from one of my other colleagues 30 minutes later. Google's changed their algorithm and punched a huge hole in our search traffic. DAMN! Hop on the plane, and miraculously, the seat next to me is empty so I have some breathing room for the first time in like 10 flights (WOOHOO!).
That's the roller coaster for the week. A lot of weeks are like that. Big highs followed 30 minutes later by big lows. If that sounds like fun to you, you belong in a startup!