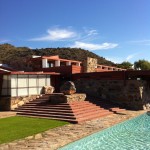 Went out last week to Phoenix for my third Phocuswright with goby. goby did well (we won our category and were a finalist for the final competition). As part of my demo, I showed a long weekend in Phoenix. Michelle's brother lives there and so we decided to spend a long weekend there, and planned it as part of my demo. Before arriving at the show, we stopped at Los Reyes de la Torte (the Kings of the Sandwich), a hole in the wall Mexican spot between the airport and the Westin where we were staying. The "tortas" were roughly the size of a basketball – (apparently the Man vs Food TV show had a run-in with these sandwiches) – intimidated, I decided to go for the King Steak Tacos. Good choice. Conservatively, I'd say these were the best steak tacos I've ever had. Seriously.
After the show (if you're interested in the show you can read more here), we bugged out of our fancy digs at the Westin and moved downscale, to the Hospitality Suites, near Tempe. $50 a night gets you a decent room, free cocktail hour, free breakfast, pool, tennis courts, shuffleboard, and about one hundred Germans in town for the Iron Man competition. Hotel prices are coming down…..! Thursday night we hit up downtown Scottsdale for a run past the art galleries. Lots of fun stuff there, although it was surprisingly uncrowded and a number of the shop spaces were vacant – perhaps the economy (especially the tourist economy) hasn't completely recovered there. More steak tacos at Blanco's Tacos & Tequila. Great margaritas and decent food. Not amazing, but decent.
After sleeping late Friday (roughly 12 hours sleep the last three days!), we cruised up to Taliesin West, the Arizona encampment of Frank Lloyd Wright. It's a pretty amazing place, and he was an amazing guy. I had thought it was a "traditional" house, but apparently for many years the house was open to the elements – the windows were not windows, but open spaces in the building, often covered by canvas but not truly enclosed. It was built entirely by Wright and his students – as the early days were described, it felt much more like a commune, but with architects instead of hippies. They went there every winter, and basically had to set up camp, clean the critters out of the building, and almost start over. It was/is a place deeply focused on their work (Wright held court every day in a wool suit!), but out in the desert of Arizona. The architecture is amazing, and the list of interesting architectural memes invented by Wright was really quite astounding – I had no idea he'd come up with the idea for recessed lighting, integrated pathway lighting, carports, hinged doors, drive-up bank teller windows, and many others. The architectural/sonic design of the Caberet was amazing. The Caberet is an auditorium hewn completely out of rock, half underground. As I sat in the audience, the tour guide stood in the audience and played a music box. 2 feet from me and I could barely hear it. Yet when she went onstage 30 feet away, and put the music box into an alcove designed for a piano, and played the music box, it was 10 times louder. Really amazing sonic design, blasted out of rock and finessed by hand….All in all a really interesting view into a powerful character (sounds like he was a bit of a tyrant), who led the life of the mind until his early nineties (he had dozens of architectural commissions on his drawing board when he died at 91). Well worth a visit.
Friday afternoon we went on to Ponderosa Stables for a one hour horseback ride with Larry Michelle's brother and his wife Wendy), to the T-Bone steakhouse, for a decent steak dinner. Coming over the ridge on horseback for some amazing views of the Phoenix valley and downtown was very cool. Then a ride back by moonlight to the stables and a ride home. My horse Q is apparently famous, having recently been in a local Powerball commercial as well as apparently having dressed up in medieval garb for a local church's photoshoot as a knight's horse (?!). Not entirely sure where that is coming from. Also learned that apparently there is a such a thing as a horse chiropractor, to which a number of the horses have been subjected/treated. Who knew?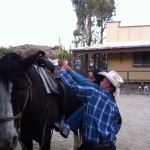 Last night Mexican dinner at Frank & Lupe's in Scottsdale. Fun atmosphere, slightly cool and they had the heat lamps going which was nice. Good margaritas but the food was your basic, decent Mexican, nothing special.
You can see the things we did (and few we didn't) at: http://www.goby.com/lists/Apres-Phocuswright/3ZV and photos are here.