Had one of my regular visits to California for work, and managed to spend a weekend with my daughter and her boyfriend. Friday night we went to a nearby bar in San Francisco (Paragon, a great place), to watch the Red Sox in the NLCS. We were planning on taking a trip to Marin County for some hiking, but weren't really sure where we were going.
Paragon proved to be a source of many co-incidences. Waiting outside the bar (which didn't open til 5:30), happened to be someone living in SF but who grew up the a few towns away from where I live in Massachusetts. Shortly they were followed by a horde of red sox fans. Game on! Sitting at the bar, some Detroit fans joined, sitting next to us. We had some friendly conversations – they were actually from Marin County, and recommended we hike the Palomarin trail. I'd been thinking about that as one of many choices but their recommendation confirmed that as the plan. As the game went on the Detroit fans were replaced with a different couple. Turns out, one of them worked in tech, and both my daughter and I had a number of number of mutual acquaintances. Weird. Last but not least, the Sox came through in the end with grand slam by Shane Victorino to win the game and head to the world series!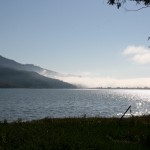 Next day we headed out to Marin. We drove to the Palomarin trail, about an hour and half from downtown San Francisco. After heading around the Bolinas Lagoon, you'll drive down a dirt road (passing the Point Reyes Bird Observatory along the way), continuing 10 minutes or so after that to the trailhead.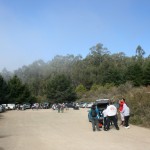 The trailhead has restrooms (as does the bird observatory). When we were there the trail was well used but not over-crowded (there was what looked like a teen venturing group headed out to camp on the beach as well as many hikers and trail runners).
The trail is about 9 miles total (4 1/2 miles each way). It's relatively flat, about 600 feet elevation gain over all. We hit the trail around 11am or so. The trail starts in a grove of fragrant eucalyptus trees, then opens onto a mesa with wonderful views of the ocean.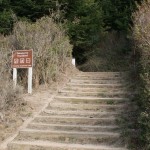 The trail continues to follow the ocean for awhile, then turns inland. You'll briefly go through a variety of ecosystems including an almost rain-forest like section, pines, another foggy mesa, a rocky pass that would have felt at home on a greek isle, and finally a few mountain lakes (there were some folks swimming the day we went).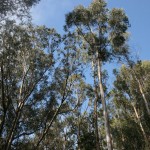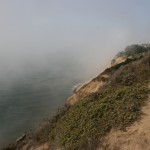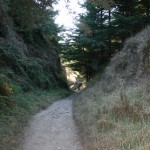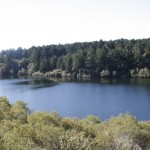 After about 4 miles there'll be a spur trail to the left (there's a sign) that will take you down to Alamere Falls. The spur is about 0.4 miles long. Other blogs have mentioned poison oak, but we didn't have any trouble with that.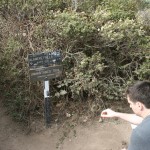 At the end are a wonderful series of small waterfalls and pools. Then there's a mildly tricky rock scramble down onto the beach. Then, your prize from your labors. A neat, moss covered waterfall, 40 or 50 feet high. And waves crashing on the beach, seals and birds in the water. A great place for lunch! Then we're back on the trail and back in the parking lot by about 2:30. On the way back you'll get gorgeous views of the coastline, you didn't notice on the way out because it was behind you 8).
From there we headed up through Point Reyes and on to the Tomales Bay Oyster Company.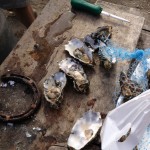 It's kinda out in the middle of nowhere, but well worth the drive. You buy your (raw) oysters from them. Everything else is up to you. There's picnic tables and grills, you can each your oysters raw, grill them, or both. You'll want to bring picnic supplies (we brought Brie, crackers, fresh avocados for guacamole, and other goodies. It's kind of a motley crew there – we bought extra orders from the Sacramento Assassins, a friendly bunch of motorcycle riders down from the day. The staff is friendly and helpful and with a location right on the bay in the sunshine, it couldn't be more beautiful.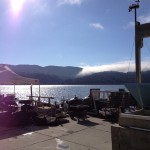 We stopped on the way back in Point Reyes for some book shopping, my addiction, at Point Reyes Books, while sipping on some great coffee from next-door, the Bovine Bakery.
All in all a classic Marin County late summer day.
(more photos here: http://www.flickr.com/photos/viking2917/sets/72157636783287194/)